rediff.comRediff Movies
News
Business
Movies
Sports
Get Ahead
rediff NewsApp
NewsApp (Free)
Read news as it happens

Available on
Rediff.com » Movies » Hrithik's special birthday celebration with dad Hrithik's special birthday celebration with dad January 11, 2019 14:46 IST
After undergoing surgery for throat cancer, Rakesh Roshan celebrated his son's birthday.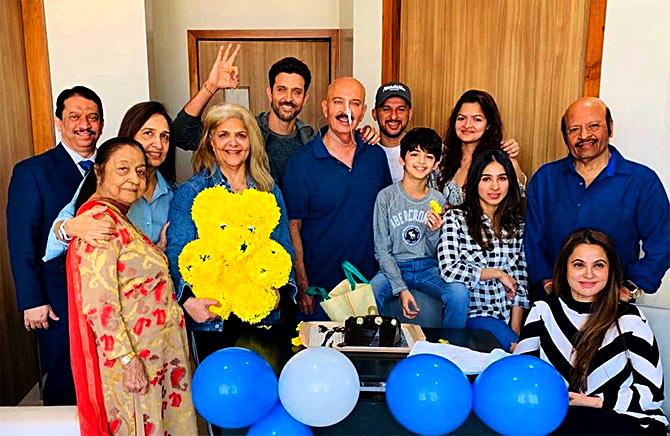 Hrithik Roshan, who turned 45 on January 10, had a rather special birthday this time around.
On Tuesday, January 8, the actor announced his father Rakesh Roshan's cancer diagnosis on Instagram, the day the film-maker had surgery for the same.
Rakesh Roshan, who is now recuperating in hospital, celebrated Duggu's birthday with the Roshan clan.
Hrithik posted a picture on his Twitter account and wrote, 'And he's up and about…Power of love! Thank you all for being with him and helping him power through. Today was a great day'.
Rakesh, 69, will be discharged from hospital in a day or two. We wish him a speedy recovery.
Photograph: Kind courtesy Hrithik Roshan/Twitter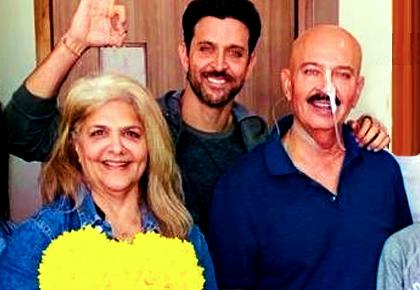 Rediff Movies ALSO
READ MOST
RECENT MOST
COMMENTED
'Being bold is not just taking your clothes off'
'Politics has always been close to Bollywood'
What makes Hrithik the PERFECT Family Man
Sussanne, Sonali party with Hrithik
Guess who wished Hrithik first!
StyleDiaries: Deepika shows off her dramatic side!
What Modi told Ranveer, Ranbir, Alia, Varun…
Consular access granted to Christian Michel
Sexual assault probe: Las Vegas police seek Ronaldo's DNA
Alliance announcement on cards as SP, BSP to hold joint presser tomorrow
What do you think of these TV shows?
After Bigg Boss, it's now Cabaret for Sreesanth
'Surgery is done and all is okay'
Isn't Farhan the SEXIEST 45 year old?
Stars spotted! What's this?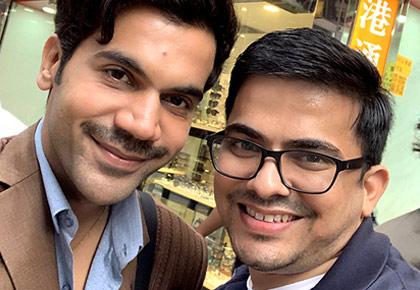 Is this Rajkummar's look in Made in China?
Reader Bikash Kumar Jain sends us a picture…
More stars spotted
Met a celebrity?
Email us photos & videos
"; data += " X " ; data += "" ; document.getElementById('div_shareframe').innerHTML = data ; var scrolltop = parseInt(document.body.scrollTop) ; var toppos = scrolltop-200 ; document.getElementById('div_shareframe').style.top = toppos+'px' ; document.getElementById('shareThisLightBoxIframe').src = iframeurl ; document.getElementById('trans_div').style.height = getDocHeight()+'px' ; showDiv('ieiframe'); showDiv('trans_div'); showDiv('div_popupcontainer'); showDiv('div_shareframe'); } function slideAd1(){ if(document.getElementById('toprdiv')){var toppos = parseInt(document.getElementById('toprdiv').style.height); if(toppos= rtop){document.getElementById('div_floater_ad_container').style.position = "fixed";}else{document.getElementById('div_floater_ad_container').style.position = "static";}}}*/} ▲
view original article