rediff.comRediff Movies
News
Business
Movies
Sports
Get Ahead
rediff NewsApp
NewsApp (Free)
Read news as it happens

Available on
Rediff.com » Movies » Mr and Mrs Jonas burning it up! Mr and Mrs Jonas burning it up! Last updated on: January 12, 2019 11:00 IST
The lovely couple is currently honeymooning on an exotic Caribbean island.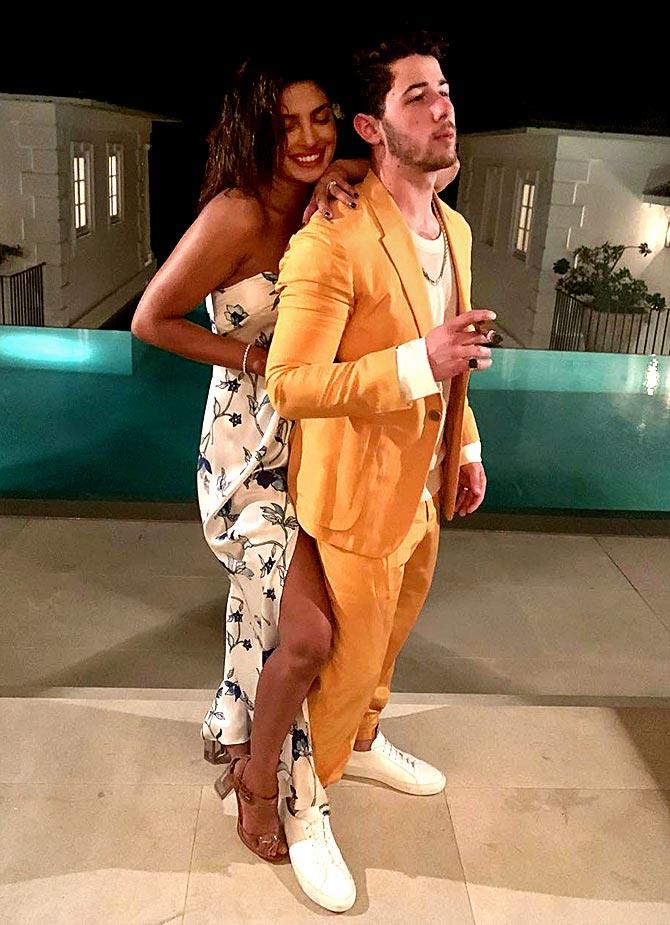 After ringing in New Year with their family and friends in Switzerland, Priyanka Chopra and Nick Jonas are now on their honeymoon, enjoying some alone time with each other.
The two, we hear, have jetted off to the Caribbean and are living it up in style before they get back to their busy lives.
Sharing a beautiful picture of the two on his Instagram account from their vacay, Nick wrote, 'Mr. & Mrs. Jonas.'
The talented singer-songwriter also uploaded a video on his Insta story and gave fans a sneak-peek into to their beach holiday.
In the video, while Mr Jonas is busy recording, his wifey is seen enjoying the swings wearing a sexy bikini.
Well, these two lovebirds sure know how to have fun and burn things up!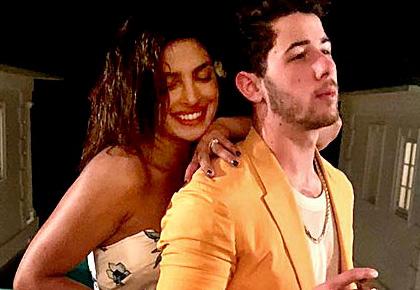 Rediff Movies ALSO
READ MOST
RECENT MOST
COMMENTED
A night of poetry with Aditi, Divya, Neena, Vidya…
Sussanne, Sonali party with Hrithik
'Being bold is not just taking your clothes off'
'Politics has always been close to Bollywood'
'Uri was most exhausting'
How ITC plans to hit Rs 1 trillion
Who is Lauren Sanchez, the new woman in Jeff Bezos' life?
Luxury car sales rose a mere 4.9% in 2018, no uptick on horizon
Tulsi Gabbard announces 2020 presidential run to take on Trump
'Uri was most exhausting'
Uri review: A deadpan take on warfare!
Hrithik's special birthday celebration with dad
Stars spotted! What's this?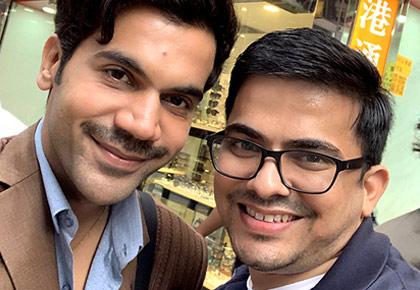 Is this Rajkummar's look in Made in China?
Reader Bikash Kumar Jain sends us a picture…
More stars spotted
Met a celebrity?
Email us photos & videos
"; data += " X " ; data += "" ; document.getElementById('div_shareframe').innerHTML = data ; var scrolltop = parseInt(document.body.scrollTop) ; var toppos = scrolltop-200 ; document.getElementById('div_shareframe').style.top = toppos+'px' ; document.getElementById('shareThisLightBoxIframe').src = iframeurl ; document.getElementById('trans_div').style.height = getDocHeight()+'px' ; showDiv('ieiframe'); showDiv('trans_div'); showDiv('div_popupcontainer'); showDiv('div_shareframe'); } function slideAd1(){ if(document.getElementById('toprdiv')){var toppos = parseInt(document.getElementById('toprdiv').style.height); if(toppos= rtop){document.getElementById('div_floater_ad_container').style.position = "fixed";}else{document.getElementById('div_floater_ad_container').style.position = "static";}}}*/} ▲
view original article